[EDIT] Translated for D-Echo [/EDIT]
J'aurais besoin de suggestions pour avancer dans mon travail.

I would need suggestions to go on in my work.
But du jeu :

Aim of the game
Modéliser un MFD-AVIO  de chez ISS, mais en utilisant uniquement du Xml pour la partie programmation et, si possible, ne pas utiliser une seule ligne de Nasal (dont je n'ai pas encore appris à manipuler les codes......... j'aimerais bien, mais on ne peux pas tout faire et tout savoir !).
Model an MFD AVIO from ISS, but using only Xml as programming language, and if possible, not using a single line of Nasal (for witch I did not yet learn to use the code .. I'd like it well, but we cannot do and know every thing).
Pour la plupart des fonctions, cela ne pose pas de trop gros problèmes.
J'en suis là actuellement :
For most of the function, this is not a big issue, here is where I am at the moment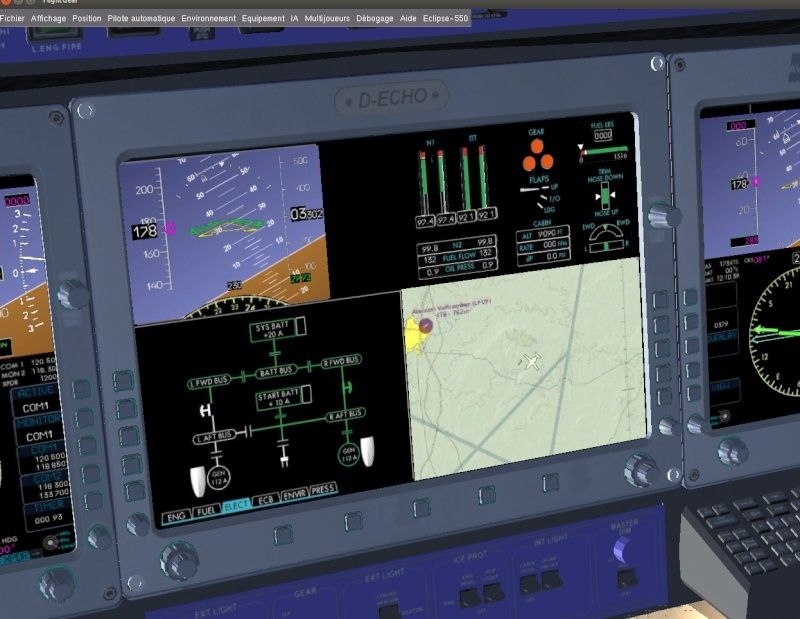 La partie du haut est en bonne voie, il ne me reste plus qu'a coder l'animation des jauges et trims, facile.

The top part is on good way, just remain to code gages and trim.
Pour l'écran en bas à gauche, j'ai déjà ma petite idée et les textures de test sont prêtes.

Pour la manipulation des boutons (changement d'écran et affichage des signets correspondant), là aussi c'est prêt, reste plus qu'a coder.
For the bottom left screen, I have already a little idea and test textures are ready.
C'est pour le petit truck en bas à droite que j'aimerais bien avoir vos avis.
This is for the little thing on bottom right that I'd like to get your advise.
Je veux faire afficher la carte des positions de balises et aéroports, qui se déplace en même temps que l'avion, si possible avec plusieurs échelles de zoom.
I'd like to get the airport and beacon map, witch move as the plane is moving, if possible with few zooming steps.
N'ayant jamais mis le nez là dedans, je suis parti sur les système suivant (qui n'est pas le meilleur, mais qui à l'air de marcher pas trop mal après quelques réglages :
But, as I never put my nose on it, I start with the following system (witch may not be the best, but look's to work after few tuning) :
- Déplacement d'un texture de la carte de France (fonction textranslate de Xml), dans un objet plat rectangulaire à la surface mon écran MFD.
Test moving  of French map texture (Xml function textranslate), in a flat rectangular object on the screen surface.
- J'ai reconstitué un carte de France (pour commencer), qui à l'origine fait quand même 15648x15648 !!!!!!!
Pourquoi cette énorme taille?
I made a France map (for the beguining), witch is originally 15648x15648 pixels large.
Why this sise?
Hé bien, carré de carte affiché le plus gros possible sur écran, copie écran, recollage des copies bout à bout pour reconstituer la carte complète.
Well, square from map put on the screen as large as possible, screenshot, putting together edge to edge to reconstruct the full map .
- J'ai ensuite préparé plusieurs copies : 8192x8192, 4096x4096 et 2048x2048.
then I made few copies : 8192x8192, 4096x4096 et 2048x2048.
Avec la 2048 on n'arrive pas à lire les chiffres et lettres de la carte (nom de balise/aéroport et fréquences), et la 4096 non-plus.
With the 2048 one, we cannot read figures (beacon/airport names, frequencies), nor the 4096 one.
J'ai créé un objet carré pour mettre comme écran et l'ai "posé" au hasard sur la texture (pouvant couvrir 1 ou 2 Km).
Et un petit carré pour mettre la silhouette de mon avion qui va s'orienter en même temps que le compas.
I made made a square object as screen and drop it by guessing on texture (able to cover 1 or 2 Km).
J'ai ensuite fait ce petit bout de code pour mettre dans le fichier Xml du MFD
Then I made this small piece of code in the MFD Xml file
<!-- Charts Map -->

 <animation>
   <type>texmultiple</type>
    <object-name>Charts</object-name>
   <transform>
    <property>position/latitude-deg</property>
     <subtype>textranslate</subtype>
     <factor>0.039</factor>
     <axis>
       <x>0</x>
       <y>1</y>
       <z>0</z>
     </axis>
   </transform>

   <transform>
    <property>position/longitude-deg</property>
     <subtype>textranslate</subtype>
     <factor>0.039</factor>
     <axis>
       <x> 1 </x>
       <y> 0 </y>
       <z> 0 </z>
     </axis>
   </transform>
 </animation>

<!-- Charts Plane silhouette -->

  <animation>
    <type>rotate</type>
    <object-name>PlaneSign</object-name>
    <property>orientation/heading-deg</property>
    <factor>1</factor>
    <step>1</step>
    <wrap> 1 </wrap>
    <center>
      <x-m>  0.0007 </x-m>
      <y-m>  0.0707 </y-m>
      <z-m> -0.0350 </z-m>
    </center>
    <axis>
      <x> -1 </x>
      <y>  0 </y>
      <z>  0 </z>
    </axis>
  </animation>
Je lance FG et regarde quel portion de carte est affichée, et je ré-déplace dans Blender mon objet sur ma texture de façon à ramener l'aéroport de départ (je vous laisse deviner.... LFBI Poitiers-Biard bien sûr), sous la silhouette de l'avion.
I run FG and look what location is coming on screen, and move my object in Blender on my texture in view to bring the starting airport (I let you guess ....LFBI Poitiers-Biard of cource) underneat the plane silhouette.
Je décolle et me dirige vers l'aéroport le plus proche pour voir si l'échelle choisie est correcte.
I take off and head for the nearest airport to see if the moving scale is correct.
Si l'avion de la carte FG arrive avant celui de ma carte, je suis trop lent donc il me faut augmenter la valeur.
If the FG map plane's reach the airport before mine, I'm too slow so I must increase the value.
Si mon avion arrive avant celui de la carte de FG, je suis trop rapide donc il me faut augmenter la valeur.
If my plane is the first, I'm too fast so I must lower the value.
Cela fonctionne pas trop mal, mais n'y connaissant rien en math, je ne sait pas comment calculer la valeur et tâtonne pour la deviner.

This is working quite well, but as I don't know much in mathematics, I don't know how to calculate the value, and make tryies to guess it.
- 0.05 déplacement de la carte trop exagéré (sur la Map de FG la carte se déplace de 1, alors que ma carte se déplace de 5 ou 10, je ne sait pas exactement).
0.05 map moving too fast (When FG map is moving from 1, mine move from 5 to 10, I don't know exactly).
- 0.0429 se rapproche de ce qu'il me faut, mais déplacement trop faible.
0.0249 get closer from what I need but still too slow.
J'utilise donc pour l'instant la 80192 comme texture, mais me doute qu'il doit y avoir un autre moyen genre diviser ma carte en plusieurs carrés que l'on appellerais au besoin quand on est sur la zone de ce carré. Cette texture couvrant le carré principal du quadrillage de la carte de France, plus 25% du carré contigu à chaque côté.
Then I use for the time being the 80192 one, but I have the feeling that it must be a better solution like devide my map on few square that we would call as we need when on the top of this zone. This texture covering the main square, plus 25% fron the next square on each edge.
Voilou, voilou,
here it is
à vos claviers...........

Take your keyboards
PS :  je ne veux pas que l'on me fasse le code ! Je souhaite seulement être aiguillé dans un meilleure direction pour faire le code "à la Didier1963".
I don't want someone do the code for me ! I only which to be guided in a better path to make "à la Didier1963" code.
ET NE ME PARLEZ PAS DE NASAL OU CANVAS,

AND DONT SPEAK ABOUT NASAL OR CANVAS
merki buckets.

Thanks à sceaux
Dernière modification par Didier1963 (2015-02-28 13:19:02)